online since june 28th 2014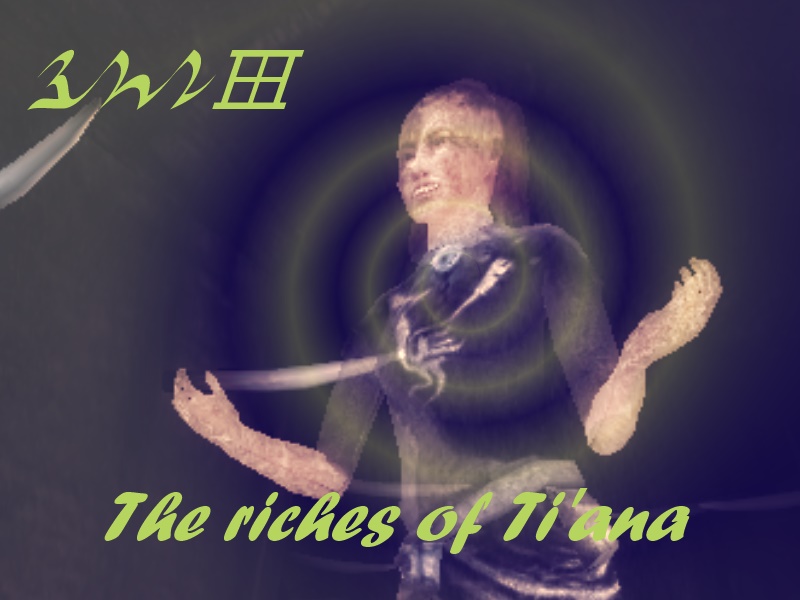 Her first human name is Anna ,  she is called Ti'ana by the D'ni  and she was the first human being to marry a D'ni, Aitrus.
Her son, Gehn, married to Keta had one son: Atrus.
Atrus with his partner Catherine has had two sons (Sirrus and Achenar) and one daughter : Yeesha.
It is in TCleft that Yeesha will welcome you and  will help you find her great-grandma Ti'ana's hidden wealth.
When Ti'ana lived in the Cleft with her son Gehn, she has stored up her objects stemming from trade she made with the caravaners of the desert.
She continued this trade when she has educated her grandson Atrus.
The Cleft is in the desert near Eddy County, New Mexico (USA) on Jeff Zandi' s property.
A system of tunnels known as the "Great Shaft" was created by the D'ni to reach the Surface as from the Cleft to go to the Cave. Unfortunately some of the well has been destroyed.
It is in one of the rooms (called Eder Tomahn) of these galleries that Ti'ana  has piled up her valuables.
Ti'ana has imagined an access code to this room. With the help of Yeesha and perhaps of Zandi, you will try to find Ti'ana's code which will lead you to this room.
Have Fun  

You will meet again Yeesha  

To meet Magic-Treasure: it's always the same :
-Find the book in TCity and PM :
VISIT
or
- PM  :
Link
(or Meet) to Magic-Treasure.   ( if you see him online of course, as usual  


 )

_________________
                            


LuMagic

GrandMaster





Messages

: 555
KI# : 10377


Date d'inscription

: 2013-02-09


Localisation

: Somewhere in the Universe




---
Permissions in this forum:
You
cannot
reply to topics in this forum