Introduction.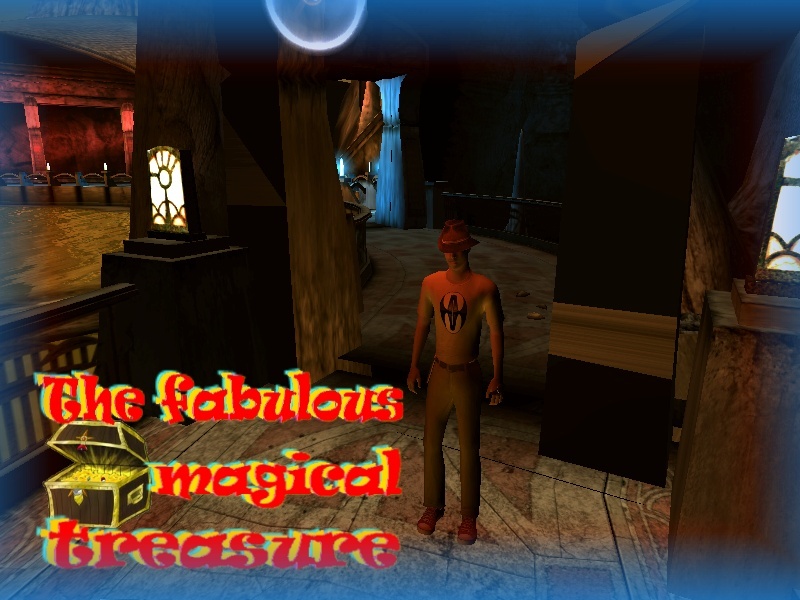 1. L'histoire  
Une légende raconte que, juste avant la chute D'ni, les notables de la ville, les grands maîtres des guildes, sentant la fin de leur civilisation, avaient accumulé toutes leurs richesses et les avaient dissimulées quelque part dans la caverne. 
Il y a deux ans déjà, une poignée d'explorateurs s'étaient mis à la recherche de ce trésor. 
Grâce à leurs expériences de voltigeurs, certains étaient parvenus à découvrir une partie de ce trésor: un coffre bien dissimulé dans une grotte qui recèle les vestiges de la Grande Guilde, aujourd'hui détruite. Nous pouvons encore voir, sur la place d'Ae'gura, l'entrée barricadée qui conduisait à ce bâtiment.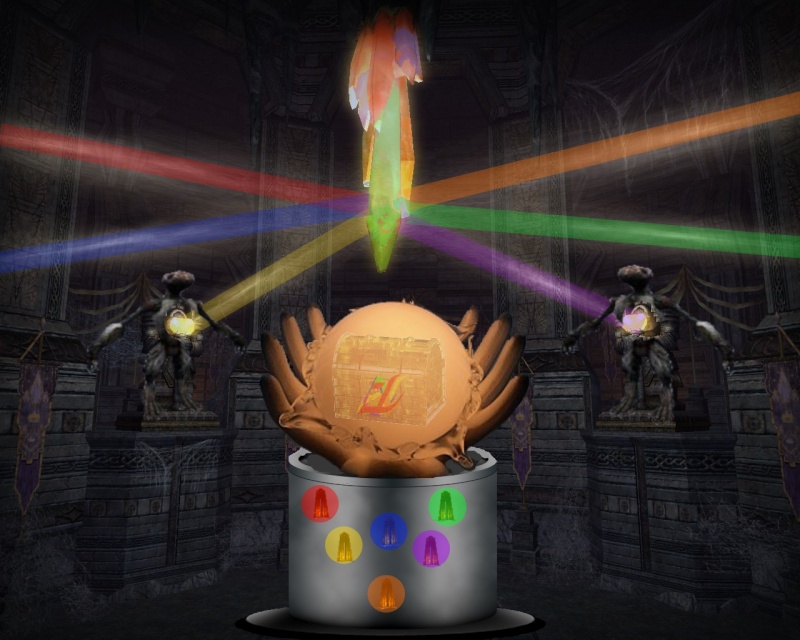 Ce coffre a été ouvert grâce à de nombreux indices que ces vaillants explorateurs avaient récoltés durant des mois de recherche.
Qu'ont-ils découvert ?
Que leur courage et persévérance étaient leur plus grand trésor. 
Toutefois, leur quête n'avait pas été vaine puisqu'ils ont pu également accumuler des pièces d'or :  des Dni$, la monnaie qui était utilisée autrefois dans la cité. 
Mais ce qu'ils ignoraient, c'est que ce coffre n'était que la partie émergée du véritable trésor caché de la civilisation D'ni.
Ils n'auraient pas pu découvrir ce trésor sans l'aide de la magie. Mais maintenant c'est possible, grâce à l'aide des pouvoirs magiques dispensés par les robots dans la caverne. 
En consultant kes données de la mémoire des robots, j'ai remarqué une série de chiffres et lettres que je n'avais pas programmés.
Je me suis d'abord dit qu'il devait s'agir d'un bug. J'ai alors nettoyé toute la mémoire et ai relancé les robots. 
Durant la soirée d'Halloween à Magic Kemo, des phénomènes étranges se sont produits. Mais le plus étonnant fût l'apparition d'un avatar énigmatique, sans nom. Je me suis d'abord dit qu'il s'agissait d'un intrus venu saboter la soirée. 
Alors, j'ai à nouveau vérifié les fichiers des robots afin de découvrir qui se cachait derrière cet avatar fantôme. Et c'est là que sont à nouveau apparus ces mystérieux chiffres et lettres. 
C'est alors qu'il m'est venu une idée.
Et si cet avatar mystère m'avait envoyé un message codé ?
Finalement, après de longues heures de recherche, la solution m'est apparue. 
Ces chiffres représentent des coordonnées d'endroits bien particuliers dans la caverne.
Tout le problème réside dans le fait de savoir dans quel âge chercher ces endroits.
Les lettres devraient m'aider à trouver la solution finale. Mais là, je ne suis encore qu'au tout début de mes investigations. Seul je n'y arriverai pas.
Pourquoi ces points ? Quel lien existe-t-il avec le fabuleux trésor ? 
J'ai donc décidé de vous faire partager cette aventure.
Ce sera un belle et longue épopée que vous pourrez vivre en direct, avec l'aide d'un robot.
Si vous voulez être l'un des explorateurs à découvrir ce fabuleux trésor alors lisez la suite... 
2. Préambule 
Voici le premier code que j'ai pu relever dans la mémoire de Magic Bot. 
0 -298 145  AI421 Door
J'ai appris que les trois premiers chiffres (
0 -298 145
) étaient des coordonnées de points particuliers d'un âge. C'est avec la commande
Dropmeto
qu'ils vous seront utiles.
D'autre part, en recoupant les autres séries, je suis arrivé à la conclusion que la suite du code
AI421
est à envoyer au robot lorsqu'on se trouve près de l'endroit indiqué en dernier dans le message. Ici cet endroit est Door.
Donc il faut que je me place près d'une porte non loin de l'endroit où j'ai été téléporté et que j'envoie le code AI421 au robot. 
Reste à savoir dans quel âge je pourrai me téléporter près de cette porte...
C'est cette partie de l'énigme qui vous sera le plus difficile à résoudre.
Ce que je peux vous révéler c'est que, après avoir essayé la commande Dropmeto 0 -298 145  dans différents âges, c'est à la ville d'Ae'gura que ce code fonctionne le mieux. Est-ce que la lettre
A
du code
AI421
serait la première lettre de Ae'gura? Mais c'est aussi la première lettre de Ahnonay

 .  Peut-être découvrirez-vous la signification de cette lettre. 
J'ai aussi appris que la seconde lettre du code (
I
dans celui-ci) donne une indication sur ce qui va se passer après avoir envoyé le code au robot.
I
signifie que vous recevrez une Information importante. Vous découvrirez aussi, au cours de votre quête, la signification d'autres lettres (
C,O,E,F,M,$
)
Le dernier point à élucider est le nombre
421
qui termine ce code.
Selon toute vraisemblance, ce nombre est un contrôle qui permet au robot de valider ou non le code qu'il reçoit. 
J'ai encore une chose très importante à vous dire.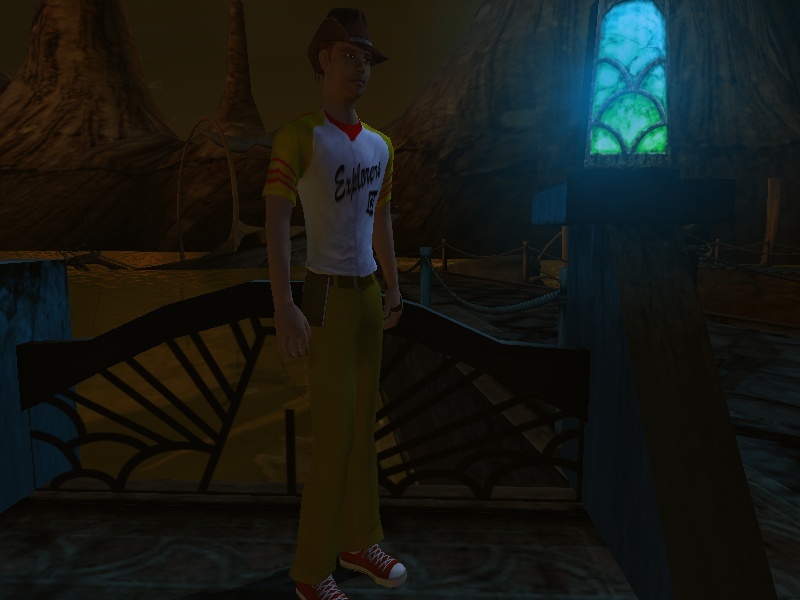 Afin d'optimiser l'interactivité de ce jeu d'aventure, un
nouveau robot va être créé
. C'est lui et lui seul qui sera votre complice durant l'aventure. Son nom ? En fait, jevrais dire
ses noms
. Selon qu'il se trouve dans le même âge que vous il s'appellera 
Game Master,
sinon,  s'il est dans un autre âge, vous le verrez en tant que
Magic Treasure.
 Son #Ki :
26224
Pourquoi ces deux noms ?
Tout simplement pour que vous sachiez quelles commandes vous pouvez lui envoyer. 
Avec
Game Master
:
C'est à lui que vous devrez envoyer vos codes spécifiques lorsque vous êtes dans le même âge que lui . En principe il ne quittera pas Treasure City, la ville où tout commence et qui sera votre lieu de référence durant tout le jeu. 
Avec
Magic Treasure
:
Vous pourrez consulter votre inventaire (j'en reparlerai plus loin) à tout moment. La commande pour consulter votre inventaire vous sera communiquée par un personnage bien connu, au début de votre quête.
Vous pourrez aussi lui envoyer des codes vous permettant de faire évoluer votre avatar.
Vous pourrez vous relier à son âge avec la commande Link ou Meet. 
Vous apprendrez bien vite à distinguer quelles commandes vous pourrez envoyer au robot. Et, bien entendu, il vous dira s'il peut ou non accepter vos ordres. 
3. Magic Treasure Hood
Sur l'imageur du quartier seront publiés des notes et photos importantes qui vous seront utiles pour l'aventure. 
Ce quartier est ouvert uniquement pour accueillir les nouveaux explorateurs et lorsque un explorateur quitte le jeu avec la commande
Quit Quest
. Il faut que vous utilisiez un avatar dont le KI est calibré de façon à ce qu'il puisse lire les coordonnées D'ni(* ) de la ville et ouvrir les courses de marqueurs.
(*) ceci sera nécessaire plus tard dans le jeu, mais pas pour la première partie. 
4. Magic Treasure City
Magic Treasure City sera votre ville de résidence. Mais, au début de votre aventure, comme vous ne posséderez que des pouvoirs magiques très limités, des barricades vous empêcheront d'accéder à certaines parties de la ville. Ces endroits deviendront accessibles au fur et à mesure de votre niveau d' expérience.
Certains bâtiments et objets de la ville vous seront très utiles. Par exemple, une boutique d'objets tenue par Zandi se trouve dans un des bâtiments commerciaux  du canyon près de la la salle des indices de Kadish. Mais vous découvrirez tout cela très bientôt

Rappelez-vous simplement que Magic Treasure City sera le lieu où Game Master se reliera le plus souvent.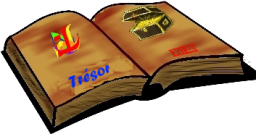 5. Le livre d'inventaire
Comme je vous l'ai dit plus haut, ce livre vous sera donné par une femme, bien connue dans la caverne.
Elle viendra vers vous le moment voulu et vous l'offrira.
Sans ce livre, vous ne pourriez pas vous lancer dans l'aventure, car il sauvegardera votre progression et maintiendra à jour vos niveaux d'expérience, de force vitale, de pouvoir magique. Il accumulera vos Dni$ (monnaie de la caverne) et mettra à jour les objets trouvés.
Vous pourrez consulter à tout moment votre livre d'inventaire avec la commande
Inventory
à Game Master ou Magic Treasure, que vous soyez ou non dans le même âge que le robot.
Voyons maintenant à quoi servent ces niveaux et objets. 
 5.1. Niveau d'expérience (Experience) (E)
Au moment où vous débutez la quête, votre niveau d'expérience est de 0.
Ce niveau augmentera en fonction de votre aptitude à surmonter les épreuves tout au long de l'aventure.
Vous ne pourrez réaliser certaines épreuves, accéder à certains âges et parties de la ville que si votre niveau d'expérience est suffisant.
Vous ne découvrirez le Fabuleux Trésor que si il atteint, au minimum, le niveau 100.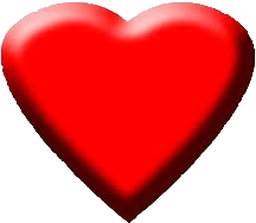 5.2. Niveau de Force Vitale (Life Force) (F)
Au départ, le niveau de votre Force vitale est de 20.
C'est le niveau maximum possible durant tout le jeu.
Il doit toujours être supérieur à 0 , sinon vous ne pourrez plus continuer la quête. Vous devrez attendre qu'il augmente. 
Ce niveau
diminue
en cas d'utilisation de certaines commandes magiques  et en cas de chute, d'agression ou d'empoisonnement 

Il
augmente
 de 1 unité toutes les 3 heures d'inactivité  ou en absorbant des aliments revitalisants (Energizer) ou dans la taverne de Victor.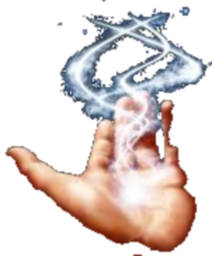 5.3. Niveau de Pouvoirs Magiques (Magical powers) (M)
Ce niveau est de 10 unités au moment de débuter la quête et son maximum varie en fonction de votre niveau d'expérience.
Plus ce niveau est élevé, plus vous pourrez utiliser de commandes magiques.
Il peut diminuer lorsque vous utilisez certaines commandes magiques.
Il augmente, soit en allant vous connecter au luxmètre (sous certaines conditions), soit en absorbant certaines potions magiques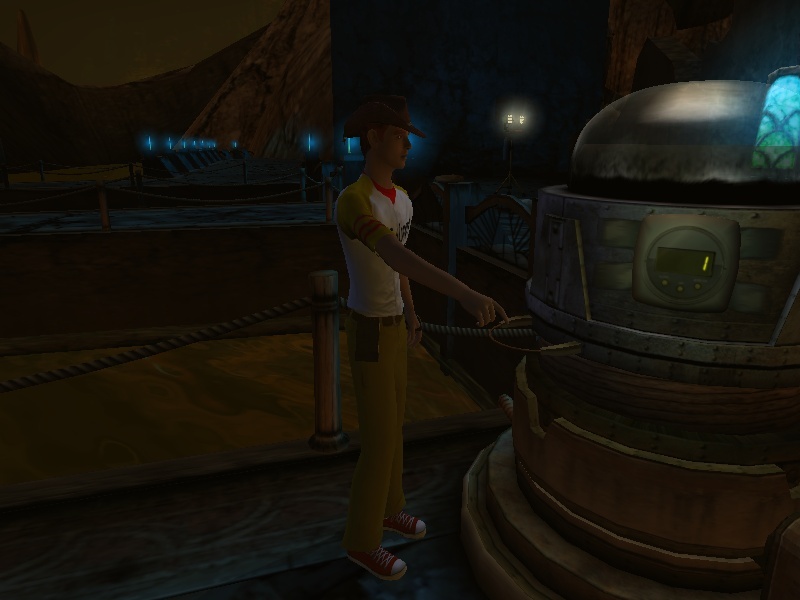 Lorsque le niveau d'expérience atteind :
10, le maximum de pouvoir magique est de 20
25,                                                     30
50,                                                     40
75,                                                     50
100,                                                   60 
Vous apprendrez, au cours du jeu quelles sont les commandes magiques que vous pourrez utiliser en fonction de votre niveau de Pouvoirs Magiques. 
5.4. Dni$ ($)
Les Dni$ est la monnaie utilisée pour vos transactions.
Au départ, vous disposez de 10 Dni$
Avec les Dni$, vous pourrez:
-acheter des objets dans la boutique de Zandi ou des potions dans une droguerie de Kodama.
Dans la ville, Zandi tient son commerce dans une boutique du Canyon et  Kodama, sa droguerie dans la tente de la bibliothèque.
Pour connaître la liste de ce que ils vendent, placez-vous près d'eux et envoyez la commande :
List Zandi
ou
List Kodama.
Les objets et leurs prix varient durant le jeu.
Pour acheter un objet à Zandi, Kodama, Victor :
BuyObject (BuyDrug) nom de l'objet
Pour revendre un objet à Zandi uniquement :
SellObject nom de l'objet
Le prix que vous revendez un objet à Zandi est égal à la moitié de son prix d'achat
du moment.
Par exemple, vous pouvez avoir acheté un marteau qui valait 10 Dni$ et le revendre plus tard à 15 Dni$ car son prix d'achat, à ce moment là, est de 30 Dni$. Vous feriez alors un bénéfice de 5 Dni$. Mais l'inverse est également possible.
Si un objet ne se trouve pas dans la liste des objets à vendre, il vous est impossible de le revendre. 
Vous pouvez gagner des Dni$ en revendant à Zandi un objet que vous possédez, ou en découvrant des pièces cachées un peu partout ou encore grâce à des mini quêtes de marqueurs proposées par Game Master de temps en temps. 
5.5. Objets (Objects) (O)
Durant votre quête, vous aurez besoin d'objets pour réaliser certaines actions comme, par exemple une clé pour ouvrir une porte.
Grâce à des indices récoltés, vous pourrez découvrir ces objets.
Certains objets peuvent aussi être achetés dans la boutique de Zandi. reportez-vous à la section 5.4 pour savoir comment procéder. 
Game Master vous informera si vous avez besoin d'un objet pour telle ou telle action.  
6. La signification des lettres I et C des codes.
Vous avez appris que chaque code comportait, en seconde position, une lettre qui vous indiquait ce qui se passe après son envoi au robot.
E concerne votre niveau d'expérience, F votre niveau de force vitale, M votre niveau de pouvoir Magique, $ les Dni$. O un objet.
Il reste encore deux lettres dont je ne vous ai pas parlé. 
6.1. La lettre C
Cette lettre indique que vous aurez un choix à faire. Le choix que vous ferez déterminera la suite de votre progression dans la recherche du Fabuleux Trésor. 
6.2. La lettre I
Cette lettre indique que vous allez recevoir un information importante concernant votre quête.
Prenez bien note de tous les détails. Souvent des indications précieuses se cacheront dans ces informations. Je vous conseille de prendre des notes. 
Vous découvrirez petit-à-petit d'autres choses qui vous seront utiles.
Vous rencontrerez d'autres explorateurs. Échangez vos idées et découvertes et utilisez toutes les ressources possibles qui vous seront proposées afin de trouver ce Fabuleux Trésor. 
Quelques mots avant de vous lancer dans l'aventure.
Utilisez un avatar dont le KI est calibré. 
Lorsque Magic Treasure (Game Master) sera dans Magic Treasure City, rejoignez-le avec la commande
Link
ou
Meet
et débutez l'aventure avec la commande :
Start  Quest
pour vous inscrire en tant que explorateur du Trésor Magique.
Suivez ses instructions et obtenez au plus vite votre livre d'inventaire.
Récoltez les indices qui vous permettront de découvrir le Fabuleux Trésor.
Lorsque vous quittez la caverne, votre progression est sauvegardée dans votre livre d'inventaire.
Toutefois, pour quitter proprement l'aventure jusqu'à votre prochaine descente dans la caverne, utilisez la commande
Quit Quest
.
Cette commande va sauvegarder votre dernière position pour reprendre l'aventure là où vous l'aviez quittée et va vous redonner vos vêtements normaux afin que vous puissiez vous balader dans des lieux publiques sans problème. Ensuite, vous serez téléporté dans
Magic Tresor Hood.
Si vous ne le faites pas ou que vous subissez un crash, ce n'est pas grave, vous reprendrez votre quête à l'endroit où vous aviez envoyé la dernière commande au robot.
Pour reprendre l'exploration, envoyez la commande 
Continue  Quest
à Magic Treasure (Game Master).
Vous reprendrez l'aventure là où vous l'aviez quittée, avec le t-shirt adéquat et votre inventaire sera mis automatiquement à jour.
Pour recommencer complètement tout le jeu, utilisez la commande :
Restart Quest
. Attention, cette commande est irréversible !
Dès le début de l'aventure vous recevrez une tenue d'explorateur. Cette tenue évoluera en fonction de votre niveau d'expérience.
Comme cette tenue n'est pas encore reconnue officiellement par la direction de Cyan, vous ne pourrez jamais le porter dans les lieux publiques de la caverne. Par conséquent, si votre avatar souhaite rejoindre ces lieux publiques, vous devrez vous changer avant de vous y lier. Voilà pourquoi, je vous conseille de toujours utiliser la commande
Quit Quest
lorsque vous quittez l'aventure.
Mais n'ayez crainte, lorsque vous reprendrez l'exploration du Fabuleux trésor, cette tenue vous sera automatiquement restituée. 
Une section spéciale est ouverte dans ce forum afin que vous puissiez poser toutes les questions concernant cette aventure.
Etant donné qu'il s'agit d'un jeu d'aventure et que l'esprit de Uru a toujours été le partage des renseignements, toutes les réponses seront faites dans cette section, de manière à ce que chaque explorateur puisse en bénéficier.   
Je vous souhaite une bonne aventure

Last edited by Mister Magic on Sun 26 Apr 2015 - 12:31; edited 9 times in total

_________________
Mister Magic #19032, Magic Bot 27527, Mimi Bot 71459, Game Master 26224, Magic-Treasure 24891, Mimi Treasure 21190
Hi Michel! 

What have you made??? According to the first picture, this looks like a whole new adventure! 
Now wait for a translation. 

This is amazing! You are really the Master Magican! 


Your Dutch friend.

Magic Tom

magician





Messages

: 46


Date d'inscription

: 2013-02-13


Localisation

: Bennekom, Netherlands



Translation already done Tom!

But you need to wait i publish it

  soon soon SOON!

_________________
                            


LuMagic

GrandMaster





Messages

: 526
KI# : 10377


Date d'inscription

: 2013-02-09


Localisation

: Somewhere in the Universe





Similar topics
---
Permissions in this forum:
You
cannot
reply to topics in this forum