This Topic has been the exchange of knowledge on the use of the Plasma console PlClient for.
Ask your questions here, we will try to answer them.
This is where you can post your own discoveries.
I start this topic with this :
1. How to use Plasma Console in PlcClient 918c
?
Once the game started, you can call the interface between plasma console by pressing the Ctrl+[%]  keys in AZERTY or Ctrl+Tilde in QWERTY keybord, to the left of the [Enter] key.
A window appears first on two lines. You can enlarge it by pressing again a second time on the same key and close by pressing a third time this button. Even closed, the last 10 typed commands remain in memory. For review and therefore not having to retype them, simply press the [up arrow] key
A ] appears at the beginning of the line telling you that you are in the Plasma console and the cursor indicates that you can type a command.
If you enter an invalid command the program will return an error message.
If this command is successful, it will fit in yellow above the line strikes
In Plasma console, there is no distinction between uppercase and lowercase.

Here is an example command Plasma:
] Graphics.Show.Physicals
This is the launch control Physicals Show subgroup Graphics Group
Note the dot between each word.
For a list of commands in the plasma console in an html file, type:
] Console.CreateDocumentation filename.html
or
] Console.CreateBriefDocumentation filename.html
This file will be created in the installation directory PlClient and give you a list of all commands Plasma.
When you type a command in the console, you can just type a few letters and then the Tab key to complete the command (if it exists). If you repeatedly press Tab, the command compatible with what you have already typed will be displayed repeatedly.
Last edited by Mister Magic on Sun 30 Jun 2013 - 9:24; edited 1 time in total

_________________
Mister Magic #19032, Magic Bot 27527, Mimi Bot 71459, Game Master 26224, Magic-Treasure 24891, Mimi Treasure 21190
Here are some basic Plasma commands some of which you can already do with the bot, these may help you get used to the console. As far as I can tell these are non-destructive, there is less chance of messing anything up with these. 
]Clothing.WearMaintainerOutfit
]Clothing.RemoveMaintainerOutfit
They do what they say. Don't wear the maintainer outfit outside of Magic Worlds or your own private ages. 
]Graphics.Show.Physicals - this is a toggle - and it looks useful for skydivers or if you want to sit on something out of reach and don't know where to look. It's real use probably has more to do with making sure you design a space that you can't walk through something and fall down to Relto.
]Graphics.Renderer.Wireframe
]Graphics.Renderer.Overwire
Not much use unless you're a designer or you can't see. But wire overlay helps you see the structure of some things which is useful if you are looking at structures. These are also toggles. The Graphics family a good place to experiment too. 
]Game.Emote.Sit (Talk, Clap, Laugh, Dance, Sneeze, Wave, Thanks)
They do what they say.

 Just the long way to go about it. It is worth looking at the source code to see how these commands are formed, and seeing how the command is made. 
]Avatar.Spawn.Respawn
Takes you to the start point. In case you can't fly there.
]App.Quit
Guess what happens?

Obviously there are more interesting commands, but I think these are good for first steps.

EdisonRex




Messages

: 2


Date d'inscription

: 2013-06-19


Age

: 57


Localisation

: London UK



 Thank you EdisonRex for your first reply.
This is a picture of what you see if you send command
]Graphics.Show.Physicals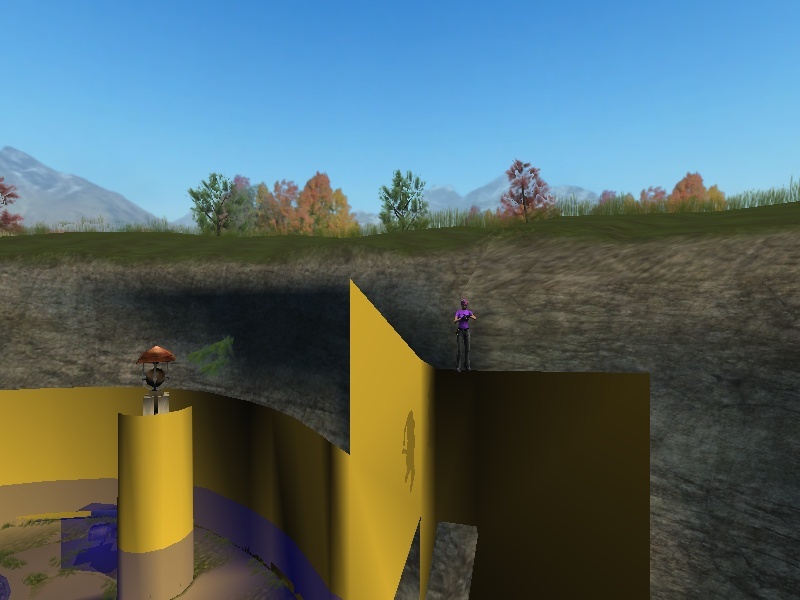 Invisible walls in Eder Tsogal  in yellow color. 
Other commands for avatars
.
Suppose avatar A with #KiA and avatar B with #KiB (where #Ki is the Ki number of the avatar) are in the same age but not at the same place.
A send the following Plasma command:
]Avatar.Warp.WarpPlayerHere #kiB
A call B exactly to its position.
Now if A wants to go to the same position as B, A send the command:
] Avatar.Warp.WarpToPlayer #kiB
This is the reverse command of the previous one. Here, the avatar that launches the command will join the avatar with #Id.
] Avatar.Spawn.DontPanic
Using this command, I suggest you start at the beginning, if your avatar falls into the panic zone, it will not return to Relto but at the last point of contact of the age where he is connected.
] Avatar.Spawn.go #
This command is used to teleport your avatar to a particular point of age where # is a number .
Every age has several points of teleportation. These are numbered starting from 0 in increments of 1. Their numbers vary from one age to another. Thus, in the city, there are more than 30 points teleportation that I recommend you visit as some are unusual for a player Moula, as the roof of the library, for example.
If you know the numbers of teleport spots then use this command.
You can see the list of teleportation by typing the command:
] Avatar.Spawn.Show
To go to the next point, type:
] Avatar.Spawn.Next
To go to previous, type:
] Avatar.Spawn.Previous

_________________
Mister Magic #19032, Magic Bot 27527, Mimi Bot 71459, Game Master 26224, Magic-Treasure 24891, Mimi Treasure 21190
Thank you very much for this, Michel and Edison.
About keyboards:  US QWERTY and UK QWERTY are different :)and the UK QWERTY has an extra key on the third row.
So the US keyboard uses the '/" key next to the Carriage Return/Enter key to bring up the Plasma console.
http://upload.wikimedia.org/wikipedia/commons/5/51/KB_United_States-NoAltGr.svg
The UK QWERTY keyboard has an extra key inserted.  The key to bring up the Plasma console is still the apostrophe key, '/@ on my keyboard
http://upload.wikimedia.org/wikipedia/commons/d/da/KB_United_Kingdom.svg
On AZERTY, the ù/% is in the corresponding position
http://upload.wikimedia.org/wikipedia/commons/thumb/c/ca/Azerty_fr.svg/1000px-Azerty_fr.svg.png
On the QWERTZ keyboard
the corresponding key should be ä/Ä
Edit by Debe: don't ask me why, but actually it is the ö - right next to it.
http://upload.wikimedia.org/wikipedia/commons/3/36/KB_Germany.svg
I hope this is some use to those with different keyboards


AlanD

novice





Messages

: 23


Date d'inscription

: 2013-02-12


Localisation

: UK: Now with added Magic :)



I use a AZERTY keybord.
This is how I open Plasma console and Python.
Remember that you must first open the Plasma Console
before
the Python Console



_________________
Mister Magic #19032, Magic Bot 27527, Mimi Bot 71459, Game Master 26224, Magic-Treasure 24891, Mimi Treasure 21190
---
Permissions in this forum:
You
cannot
reply to topics in this forum